Update for VeniceFX v4.0:Hello everyone, I just have a status update about VeniceFX. Everything should be 100% working with most bugs fixed for the 4.x release of VeniceFX which will probably be the last build to be created. In theory VeniceFX 4.x+ should be backwards and forward compatible with any update. But only tested and developed for the latest patch. (End Game 1.0)
Alt-Tab Fix Required – Fixed
Clicking the mouse breaks freecam – Fixed
Random loss of keyboard device – Fixed
Xbox 360 Controller Crash – Fixed
DirectX 11 Tweaks (Wireframe + Shaders) Re-Implemented
Proxy Module is auto-loaded, or injected with the VeniceFXLoader tool
Non-Structural Auto-Updater Created
Welcome everyone again, if you are viewing this page you have seen/been told about the previous version of VeniceFX or the great boost in support for Spectator Mode or Free Flying Camera. Well thanks to all who donated to the project, here is a beta release! Most all of the features have been implemented or planned to be implemented. I want to get this build out there for the people who have been waiting for a long time. Thanks to the people who did intermediate beta testing when new builds were created. Please if there are any issues/bugs that are not already noted, leave me a comment on the post and I will take a look at it. If you crash (which you shouldn't I haven't had crashes at all) please let me know what you were doing at the time of the crash.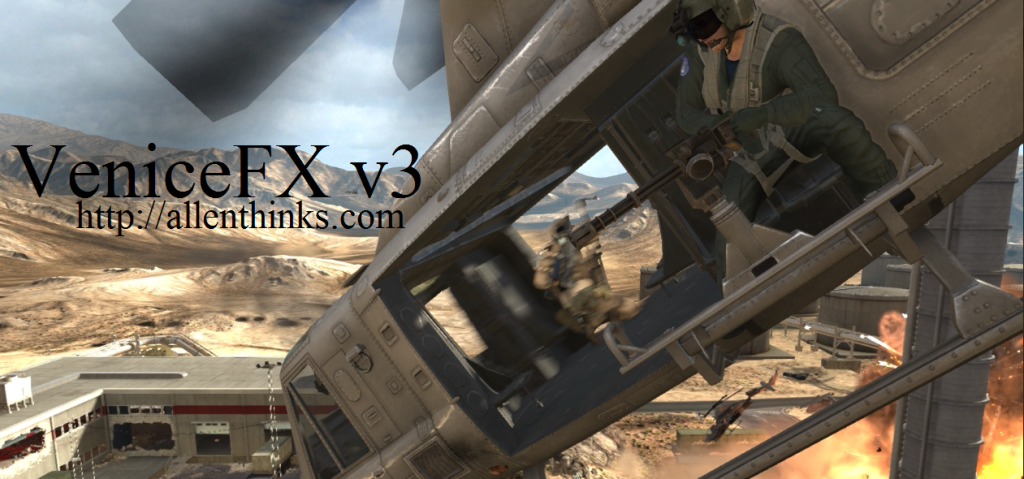 Please I ask, just read the readme. But if you don't want to do that, here are some highlights from it.
Changelog for V3.3b:
* Updated for End Game Patch
	- No New Features
VeniceFX v3.3b Beta (March 5-2013 Patch)
Update for v3.3b Beta:
Hello everyone, I am already aware that VeniceFX was not going to work on the latest End Game DLC patch. For the previous versions of VeniceFX a quick update of the engine functions in memory would solve the problem. Usually… DICE has changed some of their structures therefore it will take awhile to re-update. VeniceFX v3.3b is in the works, it will be the EXACT SAME copy of VeniceFX v3.3 except for updated for the End Game patch. VeniceFX v3.4 is also in development and once 3.3b is released 3.4 should be released sometime soon. Sorry for the inconvenience and hang tight people! VeniceFX v3.3b is released and should be up to date for End Game patch. This was not thoroughly tested but everything seems to work the exact same as v3.3. If there are any more bugs just leave a comment below and I will get to it in the new v3.4 version.
Update for v3.3 Beta:
Changelog for V3.3:
* VeniceFX Base Code Completly Changed
	- Implemented Engine Drawing
	- Implemented new Console Command System
* Added the Camera
	- Free Camera
	- Locked Spectator Camera
	- Rotatable "Advanced" Spectator Camera
* Added the Configuration File
	- Added configurable camera key bindings and sensitivity
	- Added SOME VeniceFX Tweaks
	- Added ALL configurable options
* Added HotKeys for Spectator Mode
* Camera uses keyboard and mouse input

- EmulatorNexus not implemented on this release
- Removed some less used console commands [re-implemented upon request]
- Removed Xbox 360 Controller Support due to crashing bug with Battlefield 3

Known Issues:
* When Entering FreeCamera Mode You MUST Alt-Tab out and back in to the game for full camera to work
* Upon entering spectator/freecamera mode you will need to enter the "VeniceFX.DrawFirstPerson"
command to remove your leftover first person body
* Clicking the mouse causes loss of mouse device (Alt-Tab will fix this)
With that here is the latest and greatest release of VeniceFX!
Download VeniceFX v3.3 Beta With Loader (Outdated, for Aftermath Singleplayer Patch Dec-23-2012)
From Update for v2.1:
Hello all, I know that DICE has refused to include the Color Correction Removal console command inside of the latest update. The "Filter & Shade" effect will still be implemented, and a later ColorCorrectionStatus will be added. You will be able to load the colors from a file and they will be applied during a round switch/map change. Here is a new screenshot of the latest VeniceFX. Thanks for everyone support, the new version is released!

After a very long wait, VeniceFX is ready to be released into the wild. It finally took me the effort to stop reversing bits of Frostbite 2 and actually put this together as a working code base. Currently VeniceFX has the potential to be on the scale of bf3_tweaker, but all from within console but there is a lot not finished. Therefore that will probably never see the light of day. First I would like to thank everyone involved that has supported me and put up with my constant bitching and moaning about how complicated the Frostbite 2 engine is.
I hope you enjoy it! Please do not mirror as there may be updates made that won't be announced, also ALL other mirrors should be treated as un-trusted.
Download VeniceFX Beta 2.2 NoInjector (Dec 20-2012 Patch)

Download VeniceFX Beta 2 – Outdated (For the Armored Kill Patch)
Download VeniceFX Beta 2 – No Injector Included DLL Only – Outdated (For the Armored Kill Patch)
Download VeniceFX Beta v2.1 – Aftermath Patch – Outdated (For the Initial Aftermath Patch)
The VeniceFX Module is 100% clean as all of our products. If you have a specific outdated version of Battlefield 3, Download one of the previous releases and use the VeniceFX Loader from version 3.3 Beta or up!
Once again you have been warned, this modding tool is NOT PUNKBUSTER SAFE and being a fool and trying it not in campaign or non-punkbuster servers will get yourself a permanent non-reversible ban.
Picture Tutorial: