Someone gifted me Modern Warfare 3 and wanted me to make some modifications to it. Primarily enabling the console which I wanted to do for previous Call of Duty games anyway. I always wanted to re-create the Call of Duty console using a few Direct X hooks and Keyboard hooks. Lets say I got a very rough beta done for Modern Warfare 3. It has quite a few bugs that need to be worked out but so far it works quite nicely. The few bugs that I have managed to see is…
When the console is open, my hook does not disable input to the game itself.
Quite a few VirtualKeys produce un-readable symbols inside of the console
Up arrow does not cycle correctly through previous entries FIXED!
Here is a few videos for your enjoyment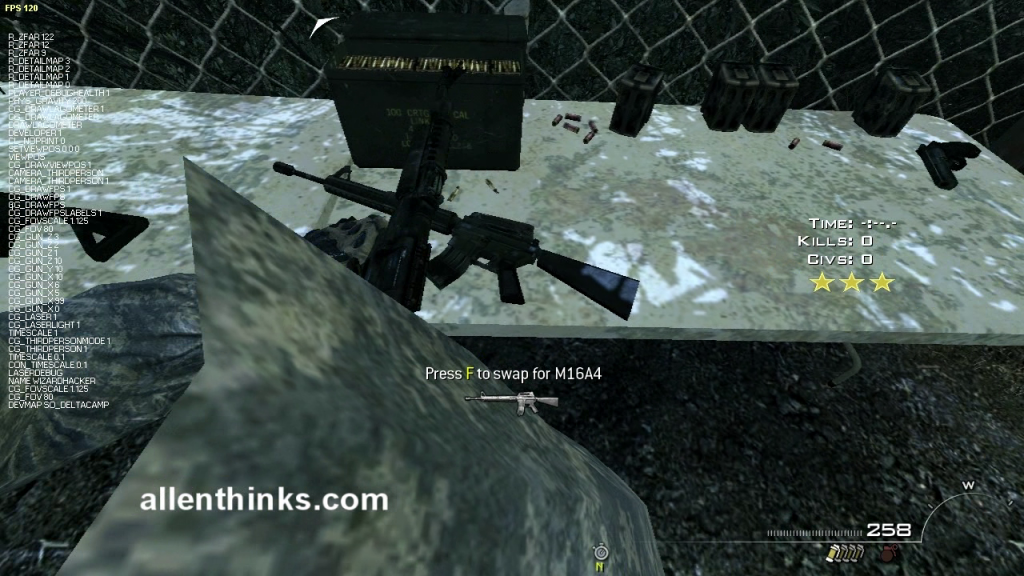 Here is the download link, This is for the Singleplayer/SpecOps side of Modern Warfare 3 only ( I don't reverse engineer Anti-Cheats as of yet, and I don't want to risk my Steam Account for such a terrible game )
You will need Winject, DCInjector or some dll injector of some kind. This is currently for version 1.9.433, 1.5.387, 1.4.382, 1.0 only.
Select the process iw5sp.exe, and select kiwicon.dll and inject, press Tilde to open up the console 😀 Have fun. Up and Down arrows will cycle through your previously entered commands.
kiwicon is now available for many versions.
kiwicon – Alternative Modern Warfare 3 SP Console v1.0 (1.9.433)
kiwicon – Alternative Modern Warfare 3 SP Console v1.0 (iw5sp 1.5)
kiwicon – Alternative Modern Warfare 3 SP Console v1.0 (iw5sp 1.4.382)
kiwicon – Alternative Modern Warfare 3 SP Console v1.0 (iw5sp 1.0)
Have fun, any comments, concerns leave them in the comments. 😉